So yeah this ho gets to keep his job by gaining 26 lbs...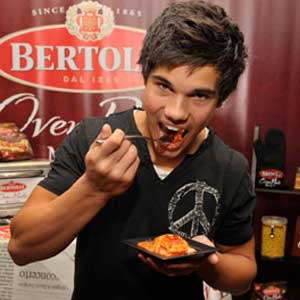 It was anounced on 1/7/09 but i didn't think the news was that exciting. Hopefully i will be bitign my tongue once i get to watch the movie. Dont get my judgementally butt wrong. I DOOOO see the potential. Kid is adorable and his lack of experience with girls is ideal for the role. In other news...its all about Edward @ the end of the day. HAA!

Anypedo, Boy is 16, which is totally creepy how these old ass hags swoon over him. It's damn wrong! It's ok to sweat Edward, he is over 100 years old keke. But seriously, Taylor's mom must get herself a gat stat! These pedocougs want to be imprinted on, TRUST!

Congrats Taylor! Your innocense, immaturity and virginity will do Jacob Black justice in New Moon!